I've lived in Aberdeen for almost 20 years and it used to be a wonderful place – especially during the festive period.
It's slowly been getting worse year after year. With the closure of old shop favourites at a Christmas such as Woolworths and BHS amongst many others the city is full of empty units, pop up shops, betting shops and charity shops. I realise that things like of Amazon Prime have a part to play in this but still, come on Aberdeen! It's also a sad state of affairs when you Google 'Aberdeen Union Street' and The Money Shop is one of the top results!
Christmas has forgotten the shops in Aberdeen.
The Christmas lights used to be amazing on Union Street and The Music Hall always had a fantastic display. In recent years the lights are off during the day (when most people do their shopping and want to feel Christmassy), The Music Hall is closed for refurbishment which is currently behind schedule (shock!).
Christmas has forgotten the lights in Aberdeen.
A few years ago Aberdeen decided to create a Christmas Village in the centre of the city on Union Terrace which was awesome. There were lots of market stalls, an ice rink, fairground rides and it was so successful. There was no way you could miss seeing it when you were doing your shopping. Last year the Council announced that the Christmas village had exceeded the amount of visitors compared with previous years and said it was a major success.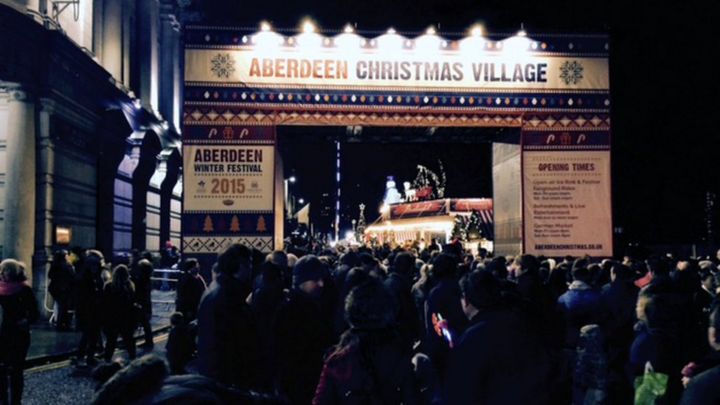 So of course despite that the Council of course made the stupid  decision to move the SUCCESSFUL Christmas Village to an entirely NEW and further away location on Broad Street to coincide with the opening of Marischal Square (which in itself is another one of Aberdeen City Council's epic fails) and to be blunt it's SHIT, you wouldn't even know it was there unless you went looking for it. I can't share a photo of it as I've not even been so take note Aberdeen City Council!
What I do know though is that it's left a huge Christmas shaped hole in the CENTRE of the city.
Christmas has forgotten that Aberdeen City Council should NOT be allowed to make decisions!
Finally, celebrity chef Nick Nairn has a cooking school in Aberdeen and I can really recommend it!
Sometimes Nick himself drops in to the classes, has a glass of wine and engages with the students. He dropped in the other night and then tweeted this a little later…
What a great advert for the city, right?
Those thugs should be ashamed of themselves and I hope Nick makes a quick recovery, has a fantastic Christmas and doesn't decide to pull the plug on his Aberdeen venture!
On Christmas Eve there was also another report of a terrible attack across the street from where I used to live.
Christmas has forgotten to tell Aberdonians about "peace on Earth and goodwill to all men"
Hopefully in years to come Christmas will start to remember the city of Aberdeen once again! I know I said I've lived in Aberdeen for the last 20 years but thankfully for the last five years I've lived in a village 30 miles outside Aberdeen where Christmas is always well and truly remembered.
This post contains affiliate links, which means that if you click on one of the product links, I'll receive commission on any purchases.