We Are Born To Be Alive!
Back in the dark depths of winter last year, a voice was heard. A warm Scottish voice, full of humour and good cheer, spreading the gospel of pop music over the airwaves. That voice belonged to Steve, of Steve Says and Talk About Pop Music.
Steve's show inspired lively exchanges on Twitter – lollops were had, prizes won and innuendos made – and it was great fun. One of the cool things about the show was that you could send in requests and Steve would mention your blog, so each week we'd tune in, requests at the ready.
One of my requests was "Born To Be Alive" by Patrick Hernandez. I vaguely remember hearing it as a child, but it wasn't until I started frequenting the Commodore in Vancouver that I really fell in love with the song. Back in the 90's, Tuesday night at the Commodore was Disco Night. For the princely sum of $2 you could dance the night away among a motley selection of characters, including a local girl band called Lik The Pole, several jazz dancers, a few confused looking tourists and random disco aficionados. The vast sprung dance floor was half empty, all of us whirling and dancing in our own worlds while John Travolta played on a loop on the big screen overhead, moving his hips in black underwear, flick flick flick.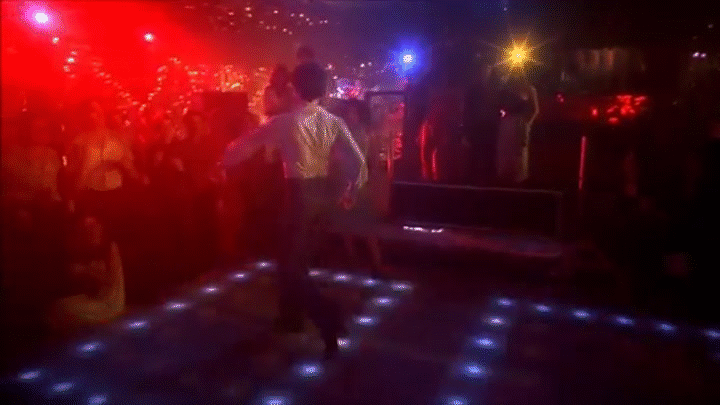 The Commodore was an old dance hall, still with its original stage and dance floor, and a pool hall underneath. In the seventies it had been given a bit of a makeover, including disco lighting that ran up the art deco columns and along the balcony around the dance floor, culminatingin a spaceship-shaped DJ booth complete with flashing lights that protruded over the crowd. It was old and fabulous and, in the grunge-y 90's, completely perfect.
Then disco had a revival of sorts, a reaction to the howl and fuzz of grunge, and Disco Night suddenly became the place to be. A Disco King emerged, lean in feathered hat, flares and shades, leading the now crowded dance floor in group dances and contests. "Born To Be Alive" was a regular on the playlist, the lights flashing and flaring in time to the beat, pulsing especially strong at that bit in the song where there's a pause and then… well, it's hard to describe. You'll know it if you know the song…
So when I requested it from Steve I thought he would be familiar with the song, yet he'd never heard it before. I think, though he'd have to confirm it, that it was love at first listen. And it got me thinking – why was there only the one hit from Patrick Hernandez? And where did the song come from in the first place?
Well, according to my good friend Wikipedia, Hernandez, despite his Spanish last name, was actually French, born (to be alive) in 1949. In 1978, after some success touring with bands through France, he met producer Jean Vanloo and signed a recording contract. The first single they released was 'Born To Be Alive', and it was an immediate success, eventually selling millions of copies around the world and gaining fifty-two gold and platinum record awards.
However, after such a monster hit, the follow-up singles were sadly not as well received. There was still enough momentum from Born To Be Alive that Hernandez toured the US in 1980, recruiting several local backing dancers to accompany him including (and I love this) a young Madonna.
Hernandez continued to put out singles for a few more years, but nothing that matched the success of his original hit. Still, I imagine he's doing okay. Since its release, the song has sold more than 800,000 units per year, has featured in movies and advertising, and, of course, thumped its way into the hearts of dancers at the Commodore Ballroom.
So there you have it. From the disco days of the seventies to the dance halls of the nineties to today, "Born To Be Alive" is still gaining new fans. If you're only going to have the one hit song, that's the way to do it.
And if you'll excuse me, I think I need to go put on some music and dance…
"Thanks to Helen for doing her first "Helen Says…" post – check out her awesome blog!"